Hello Yellow is the New Scentsy Scent of the Month for March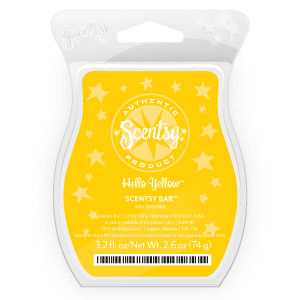 Good Morning, sunshine! 
Hello Yellow
 is a sunny floral fragrance of incandescent white petals, golden lemons, and a touch of bright basil — a wonderful spring pick-me-up. I love this bight strong scent!
Pair the Scent of the Month with the
Warmer of the Month
for a great gift or a treat for yourself!
Try the new Scentsy Scent: Posy Peach and see where it takes you!
Contact me for a free Scentsy scent sample or purchase a Scentsy bar for yourself.
Each month Scentsy releases a new scent as the Scent of the month. During that month the scent is on sale for 10% off. These scents are available during the entire catalog season but you will not find them in the catalog. You can always purchase Scentsy online or contact me for a sample of the Scent of the month and the flyer to show all Scentsy Scent and Scentsy Warmers of the Month.
If you want to keep up with the newest Scentsy scents, contact me about my special Scentsy Scent of the Month club for my preferred customers. Each month I will send you a sample of the scent of the month for you to try and see if you like it. During that month you can order that bar at 10% off!
Also available in: