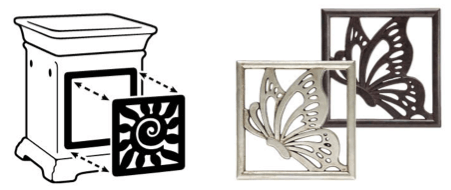 The New Gallery Collection
Curate your own personal exhibit with the Gallery Collection. Each Gallery warmer has a blank, magnetized panel that glows from within when lit. Simply snap on a Gallery Frame to customize your warmer and fill the room with beautiful patterns of shadows and light.
Snap your Gallery Frame onto the metal border of the Gallery Warmer. The magnets on the warmer will hold the frame in place. Change your frame anytime you would like to change warmer. Light from the warmer shows in the frame pattern.
Each Gallery warmer comes with your choice of Gallery Frames — you can expand your collection by purchasing Gallery Frames individually.
The Gallery Scentsy Warmer is the perfect setting for your collection of frames, with elegant lines and eye-catching light. The Gallery Warmer comes in Cream or Charcoal.