New Laundry Liquid by Scentsy!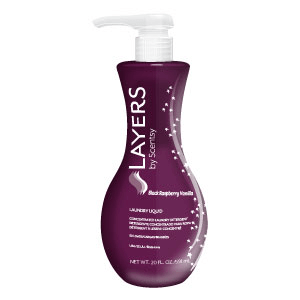 Leave it to Scentsy to invent a NEW environmentally friendly laundry detergent! Finally, a high efficiency laundry detergent that lives up to its name.
When Scentsy set out to develop the Layers Laundry Liquid the development team was tasked with creating the best laundry detergent on the market, it just happens to be scented too. And for those who are sensitive to scent, there is a fragrance free laundry detergent option as well.
Ultra concentrated Layers Laundry Liquid delivers the perfect amount amazing Scentsy fragrance and packs as much punch in a few easy pumps as a capful of traditional detergent. The cutting-edge formula transforms the way cleaning agents bond with dirt and stains, lifting and washing them away and leaving every load of laundry remarkably fresh and clean.
Exclusive, environmentally friendly phosphate-free formula
Contains powerful stain lifters and brighteners
Ulta concentrated for maximum results and less waste
Size: 20 oz.
Estimated number of uses per container: approximately 50 medium wash loads
Package recycling codes: Bottle is 4 ; pump is 5
Allergy tested; non-toxic and non-irritating to skin
Not tested on animals, contains no animal byproducts
Designed to work alone or with Scentsy Washer Wiffs and Scentsy Dryer Disk for a blissfully scented laundry care experience.
Available in eight fabulous fragrances or a fragrance free option
Fragrance Free Laundry Liquid is hypoallergenic
Want more? Buy a Scentsy Liquid Laundry Multi-Pack