What is a Scentsy Whiff Box?
Looking for a fresh assortment of Scentsy products to explore on a regular basis?
We make it easy! Each month, we put together a Scentsy Whiff Box filled with new, fun, trending and seasonal products for you to discover. And what's inside is always a surprise!
Each Scentsy Whiff Box includes a variety of full-sized products and samples, like Body, Clean, Laundry, Scentsy Bars and more! All for less money than purchasing the products individually.
Your Scentsy Whiff Box arrives in a stylishly designed package and is finished with a note about your box, which makes it's ideal for gift-giving!
Want to receive a Scentsy Whiff Box on a regular basis? It's easy! Just join Scentsy Club to schedule recurring shipments. 
Scentsy Whiff Box Frequently
Asked Questions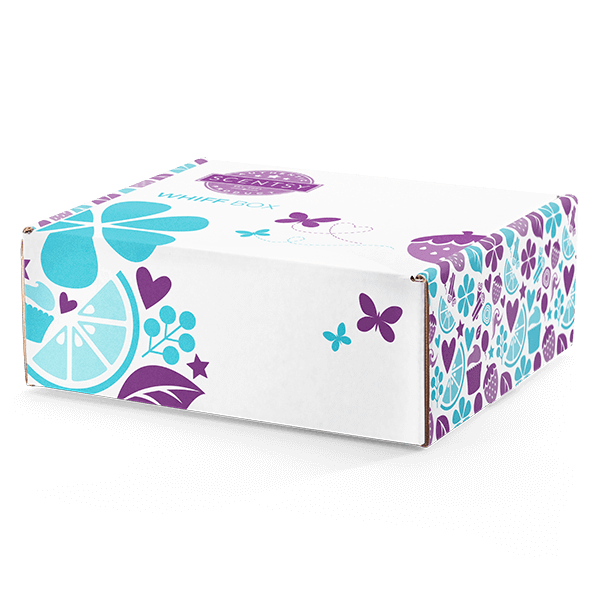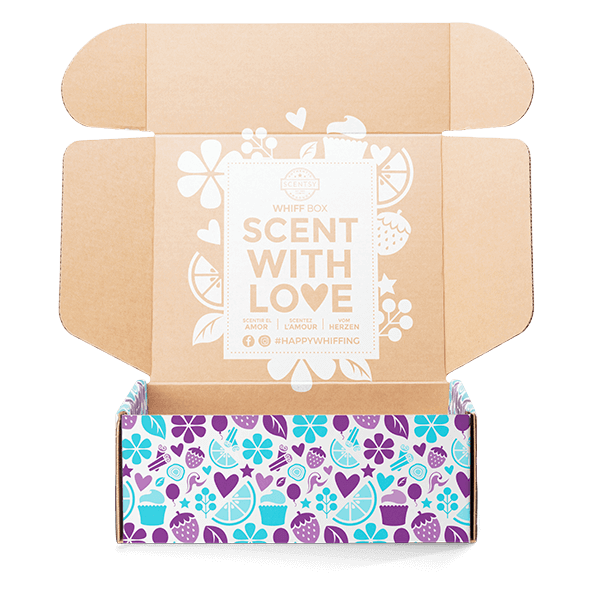 What is a Scentsy Whiff Box?
Scentsy Whiff Box is a monthly hand-picked assortment of Scentsy fragrances and product lines designed to entice your customers to purchase new, trending and seasonal items. Every month's assortment is a fun surprise!
What can I expect to get in a Scentsy Whiff Box?
You can expect a variety of sample- and full-size consumable items (aka the stuff that runs out) in each box. You'll always get Scentsy Wax in single-use samples and/or a Scentsy Bar or two. The remaining contents will vary depending on items available in your country, either from Scentsy Laundry, Clean, Body or On-the-Go products.
How do I get a Scentsy Whiff Box without the shipping label on the box?
When ordered individually, the Scentsy Whiff Box is designed to ship by itself (in its original box) to reduce waste. If you want your Whiff Box to arrive without a shipping label on the outside, it needs to be included as part of a larger order with other products, either through Scentsy Club, or a multiple product order.
How are the contents of a Scentsy Whiff Box selected?
Scentsy Whiff Box contents are carefully curated by our team of fragrance experts at the Scentsy home office. Selections represent a variety of new, on-trend and seasonal items.
How often do the contents of a Scentsy Whiff Box change?
Scentsy Whiff Box contents change each month to incorporate the latest trends and seasonal fragrances. Products are subject to change throughout the month due to availability. If products sell out, we will do our best to replaced them with comparable items.
Am I able to customize the contents of a Scentsy Whiff Box before I order?
When will the contents of a Scentsy Whiff Box be shared?
We share the product types you might expect to see in a Scentsy Whiff Box, but to maintain the element of surprise for customers, specific contents for current and future months will not be published. As the month goes on, social sharing may reveal the month's curated contents, but keep in mind that those contents are subject to change due to product availability throughout the month.
Why were the contents of my Scentsy Whiff Box different than someone else's?
Scentsy Whiff Box contents are always subject to availability, and because products occasionally sell out, there may be variances within a box for a given month. If an item sells out, it will always be replaced with a similar product. Scentsy Whiff Box contents will also vary by country, given that not all product lines are available in all countries.
How can I have a Scentsy Whiff Box auto-shiped each month?
This service is available only through a Scentsy Club subscription. Scentsy Club members can schedule recurring shipments of Scentsy Whiff Box — every month, two months or three months — to continue trying the latest Scentsy products on a regular basis. Learn more about Scentsy Club.
Did you know? At $30 USD/$40 CAD retail, Scentsy Whiff Box automatically qualifies you for 10% discount on Scentsy Club subscription orders!
What do I do if an item in my Scentsy Whiff Box is defective?
The same policies and procedures apply to all Scentsy products. See Shipping, Warranties and Returns at Scentsy.com.
s the Scentsy Whiff Box available for half-price, Host Credit or Perpetual Party Rewards?