Happy Go Lucky is the New Scentsy Scent of the Month for January
A racing heart, daydreams, bouts of blushing — getting bit by the love bug can cause all sorts of symptoms.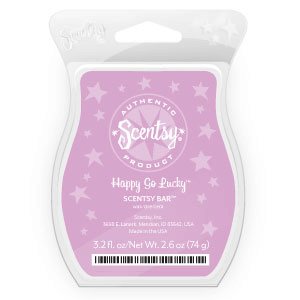 Happy Go Lucky captures the excitement of a fresh romance with luscious red berries, silky orchid, and Japanese plum floating on a cloud of amber vanilla.It is the perfect scent for upcoming February. Light and fresh, great for a powder room, guest room, bathroom or bedroom!
Pair the Scent of the Month with the Warmer of the Month for a great gift or a treat for yourself!
Try the new Scentsy Scent: Happy Go Lucky and see where it takes you!
Contact me for a free Scentsy scent sample or purchase a Scentsy bar for yourself.
Each month Scentsy releases a new scent as the Scent of the month. During that month the scent is on sale for 10% off. These scents are available during the entire catalog season but you will not find them in the catalog. You can always purchase Scentsy online or contact me for a sample of the Scent of the month and the flyer to show all Scentsy Scent and Scentsy Warmers of the Month.
If you want to keep up with the newest Scentsy scents, contact me about my special Scentsy Scent of the Month club for my preferred customers. Each month I will send you a sample of the scent of the month for you to try and see if you like it. During that month you can order that bar at 10% off!
Also available in: