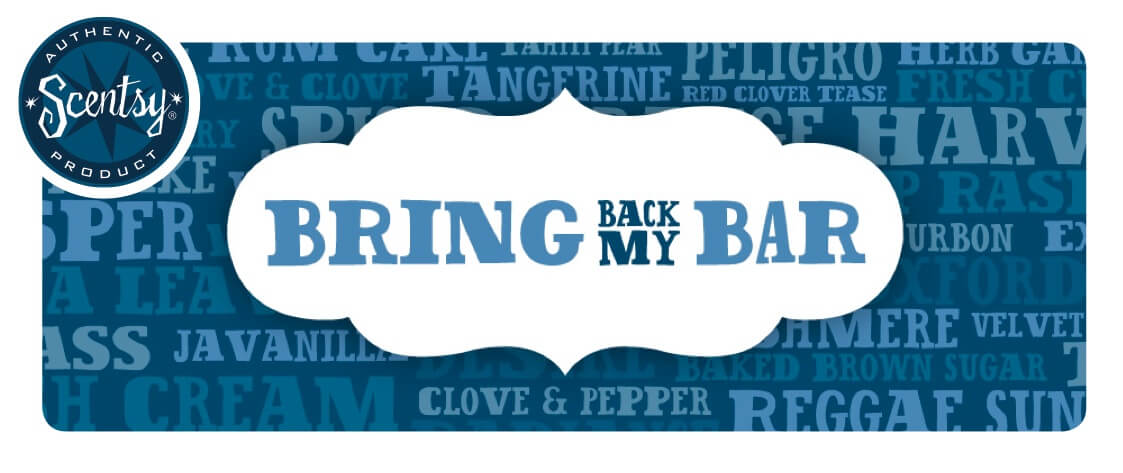 After tallying millions of votes from dedicated Scentsy fans, we've identified our 20 winners. These "retired" fragrances have emerged from the vaults to become Scentsy Bars during Bring Back My Bar Winter 2015.
These beloved fragrances will only be available during the month of January, so stock up before they're gone!
Scentsy 3-Pack: 3 Scentsy Bars of your choice $14
$1 savings
Scentsy 6-Pack: Buy 5 Scentsy Bars, get 1 FREE $25
$5 savings
Scentsy 12-Pack Bring Back My Bar Bundle
25% Savings
Want all 20 retired Scentsy scents? You can purchase the sampler!
Scentsy 20-Pack Bring Back My Bar Sampler
Peppery cinnamon mingles with dusky plum and warm incense to create a spicy and comforting fragrance.
Right from the oven with ripe bananas, nuts, and spices.
Bold and sophisticated. Wake up to the rich aroma of freshly roasted coffee beans.
Cucumber Lime
Cool, refreshing blend of mellow cucumber and tangy lime.
This is a light clean scent. It was always my go-to gift to give with a plugin.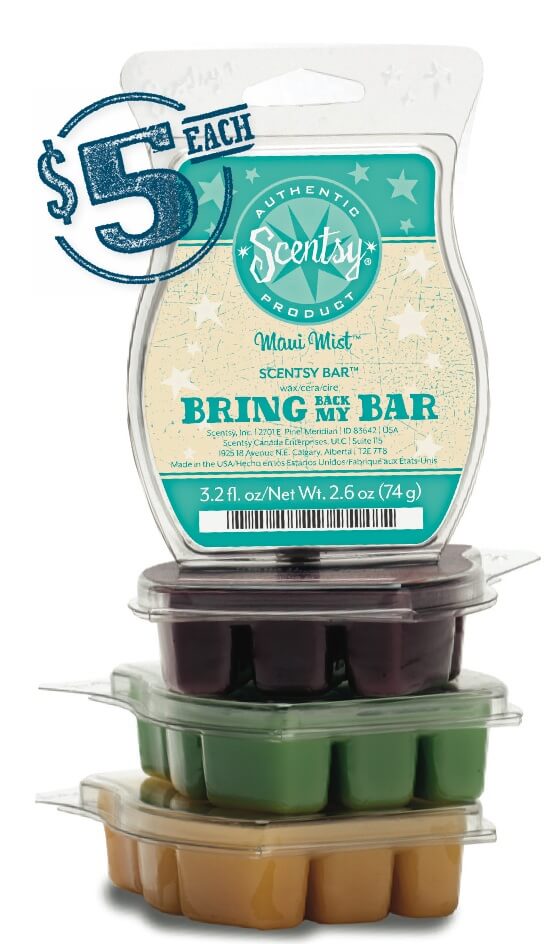 Eggnog
Warm spicy tones of nutmeg, rum, and cream — this scent is a real holiday favorite.
Falling Leaves
An earthy blend of clove, cinnamon and patchouli.
Grape Granita
Sun-warmed grape and pineapple with undertones of honeysuckle.
Hemingway
Rich, ripe apples and warm, woody accents of sandalwood and cedar with hints of spice.
This has always been one of my most popular Scentsy Man Scents. Great year around, in a man-cave or to cover the cigar smoke!
Lavander Vanilla
Relaxing mix of hillside lavender, vanilla beans, orange zest, and patchouli.
My Home
(Also Known as Home Sweet Home)
Spicy cinnamon and floral scent — a must try!
A confection of earthy fig, sweet violet and playful marshmallow will have you wishing for more.
A  light, clean blend of lilies, freesia and jasmine.
A favorite for those who love the clean laundry smells.
Juicy pomegranate and sweet berries with cool, bracing peppermint.
Concoction of old-fashioned root beer and creamy vanilla ice cream
Warm fragrance of cedar, oak, and musk with traces of wood smoke and fallen leaves.
I have been told by many of my customers this is the most true pine scent. Rustic Lodge really smells like the forest!
Exotic sandalwood, sweet cranberries and spice.
Mandarin and bergamot citrus perfectly balanced with spicy coriander, nutmeg and allspice.
This was my first Scentsy scent (and the first for some of my friends & customers) and still my ALL TIME FAVORITE scentsy scent. This is reminds me of winter, the smell of the oranges with cloves that we used to make when we were little.
A lovely, sophisticated scent, infused with soft romantic florals and ocean air.
This is a clean scent but still on the romantic side. Customer favorite.