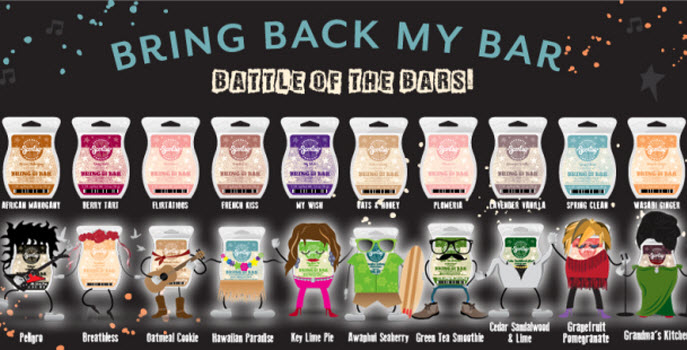 Available July 1-July 31st
What is Bring Back My Bar? Twice a year Scentsy allows customers, consultants and Scentsy fanatics to vote on their favorite retired Scentsy scents. Then the top 20 are released for one month in January and in July. The list for July Bring Back my Bars is out and it is one of the best! Some of my customer's favorites are back!
You asked and Scentsy listened! Twenty previously retired scents are back for a limited time! You have one month to stock up on your favorites before they are gone! Are you longing for a fresh clean scent try Spring Clean? It is one of my favorite Scentsy Scents and I am so excited it is coming back! There are some that are new for me – lots of great tropical and summer scents! A few are returning that I know are some of my customer's favorites like Flirtatious and French Kiss!
Comment below with your favorites & What memories you remember?
I like to call these twenty scents LIMITED EDITION since they are so special! Just this month, just July, you can purchase. After that they are gone…maybe forever! Order by July 31st. I suggest getting a few extra, if you fall in love it could be gone. I can tell you from experience that when August 1st hits I am always wishing I had more of one of these scents.
Maybe you are new or newer to Scentsy and haven't had the luxury of smelling some of these historic Scentsy scents, contact me and you can smell each one! I am sure you are to find a new favorite! Or better yet, get a few friends together for a Bring Back my Bar party and benefit from the double host exclusive for July!