Need Help with Your Christmas List?
Scentsy has the perfect gift for everyone on your list, including yourself!
Contact me if you need help selecting the perfect gift this holiday season! With over 40 different warmers and 80 scents, Layers, Scentsy Buddies and Greeting cards,  I can help you with everyone on your Christmas List! Contact me for more gift ideas or help with a holiday gift basket. I offer corporate gifts by request. Using Scenty host rewards helps you get everyone on your list a gift within your budget. Ask me how!
Scentsy Gift Guide for 2012

Need help with your Christmas Cards?
Sincerely Scent makes Christmas cards fun and easy! It's all online and with a few clicks you will have a unique, memorable Christmas card. Credits are purchased directly from me, so call me today and let's get you started!
Christmas Gifts for Teachers
Whether you have one or multiple teacher's gifts to purchase this year, we can help. We have items for all price ranges.
Christmas Gifts for Him
Christmas Gifts for Her
Christmas Gifts for $25
Are you looking for a gift under $25? The fabulous Scentsy nightlight and bar is a great gift! If you think they may already have Scentsy products why not get a holiday nightlight with a holiday or fall scent?
Christmas Gifts for $10
Yes! Scentsy has gift for  $10 and under. Whether it is a stocking stuffer or a gift for secret santa, we have you covered!
Some of my favorite items that make great gifts: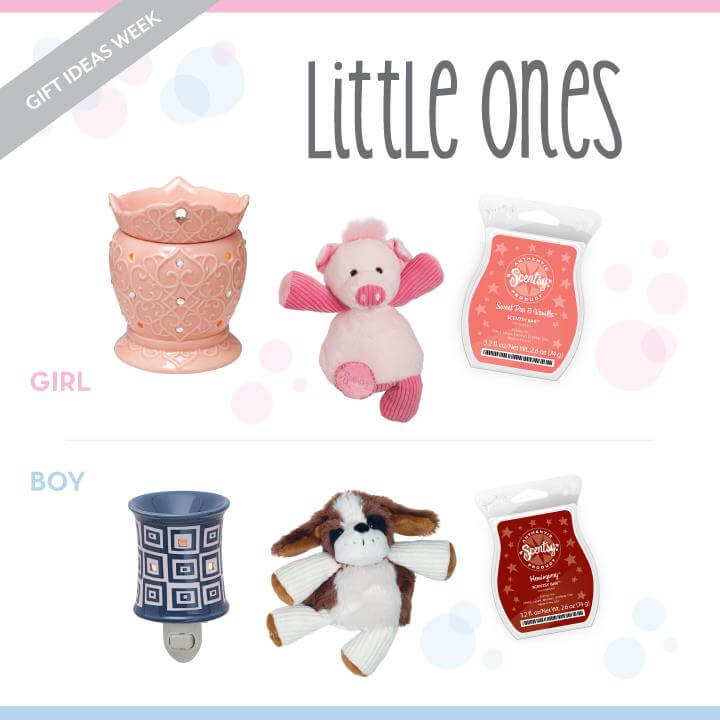 Scentsy for the Little Ones
Need a cute gift idea for the kids, tweens or teens in your life? We can help!
Scentsy Baby Buddy or Scentsy Buddy are great for the little ones. Pick out your favorite buddy and then select an amazing Scent for the Scent Pak.
Scentsy Tiara is pefect for the princess in your life. It adds the right about of royalty to any room.
Scentsy nightlight dual functions as a nightlight for the bathroom or bedroom. Anyone with boys knows you need a good fresh scent wherever the boys call home.
Scentsy for Spa and Relaxtion
Take a bath with our amazing Bath Tablets while melting French Lavender in a Nightlight. When finished cover yourself in our amazing body butter (the best body cream ever)!
Celebrate With All Wrapped Up
If you're looking for the prettiest sort of present, give the gift that doesn't need wrapping paper to look lovely nestled under the tree — All Wrapped Up ! Tied up in a bright red bow, this festive warmer is sure to delight. Pair it with a Holiday Collection fragrance like Christmas Cottage or Festival of Trees to help your loved one enjoy the season.

Celebrate With Fragrance Foam
Help your friends and family keep sniffles at bay with a gift of Scentsy's antibacterialFragrance Foam! This scented foam is alcohol-free, allowing it to kill germs without further drying winter-roughened hands. For a limited time and while promotional supplies last, when you buy one select Fragrance Foam, you get one free — making this flu season savior a perfectly priced stocking stuffer!
Celebrate With Layers
This year, add fragrance to their winter wardrobe with a gift of Layers by Scentsy . Layers makes it easy to create a gift they're sure to love; just fill a basket or stuff a stocking with their favorite things: Shower Cream or Bath Tablets for those who love a good soak, Body Butter or Body Lotion for those who crave luxuriously soft skin, andBody Spray or Solid Perfume for those who never want to be caught without a hint of fragrance. Layers products are available in a variety of scents for men and women — shop the collection today to find the perfect one!