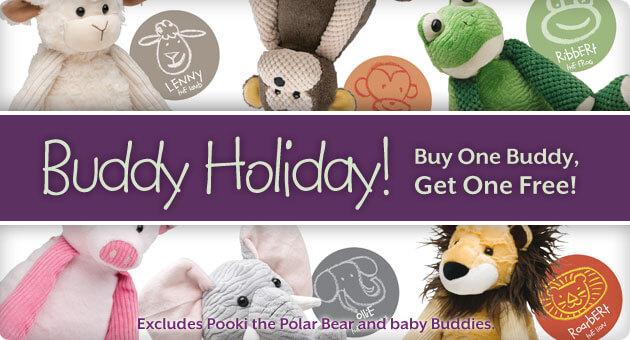 Through the end of the year, whenever you buy one select Scentsy Buddy, you get a second select Buddy free. There's never been a better time to stock up on these adorable fuzzy friends! From soft and sensitive Lenny the Lamb to animated and adventurous Mollie the Monkey, each Buddy has a charm all its own. Shop the Scentsy Buddy family to find your favorites, and then share them with the precious little ones in your life whenever you need a sweet (and sweetly scented) gift!
There's no better surprise than spying a Scentsy Buddy under the Christmas tree — and this year, Scentsy Fragrance is here to help you make gift-giving double the fun! Make sure to take advantage of this special now while supplies last.
Starting at noon MT Wednesday, Sept. 26, through Dec. 31, 2012, buy one of our selected Buddies and receive a second Buddy for FREE!
Choose any two of these popular Buddies:
Lenny the Lamb
Penny the Pig
Roarbert the Lion
Ribbert the Frog
Ollie the Elephant
Mollie the Monkey
Patch the Dog
Scratch the Cat
Barnabus the Bear
Wellington the Duck
Then, bring your new Scentsy Buddies to life with two Scent Paks — one for each of your new friends. Scentsy will choose the second Scent Pak for you so they can manage inventory and not create a backorder situation with the Scent Paks.
Scent Pak #1: Choose any Scent Pak fragrance in the Scentsy Fragrance Fall/Winter 2012 Catalog!
Scent Pak #2: We'll choose a second Scent Pak for you!
List of Scentsy Scent Pak Scents
Don't wait to stock up on your Scentsy Buddy gifts! A set number of Buddies will be offered during this promotion. When we reach the selling limit on a Buddy, that Buddy will be removed from the promotion. Any Buddy pulled from the promotion will be available at full price through the Fall/Winter 2012 Catalog season.
These 10 Scentsy Buddies will be gone for good after Feb. 28, 2013!*
*Offer does not apply to Pooki the Polar Bear or Baby Buddies.
The Buddy Holiday promotion cannot be purchased using Host Half-Price Rewards.
Get your Scentsy Snuggly Buddy & a Second Buddy FREE!