Peppermint Dreams is the New Scentsy Scent of the Month for November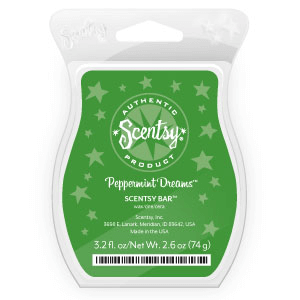 A soothing and invigorating scent of peppermint and chocolate – think Thin Mint, Peppermint hot chocolate or chocolate cupcake with vanilla-peppermint icing!
A great fresh, clean scent, with a hint of yummy.
Peppermint is believed to have many benefits such as stress relief, increase alertness, relieve headaches and induce calm. This is a holiday scent you don't want to miss. I have used this one in my powder room and my guest have really enjoyed it.
Try the new Scentsy Scent: Peppermint Dreams and see where it takes you!
Contact me for a free Scentsy scent sample or purchase a Scentsy bar for yourself.
Each month Scentsy releases a new scent as the Scent of the month. During that month the scent is on sale for 10% off. These scents are available during the entire catalog season but you will not find them in the catalog. You can always purchase Scentsy online or contact me for a sample of the Scent of the month and the flyer to show all Scentsy Scent and Scentsy Warmers of the Month.
If you want to keep up with the newest Scentsy scents, contact me about my special Scentsy Scent of the Month club for my preferred customers. Each month I will send you a sample of the scent of the month for you to try and see if you like it. During that month you can order that bar at 10% off!
Also available in:
Room Spray

Scent Circle