Scentsy Special for February is Easter Egg a Full Size Premium Scentsy Warmer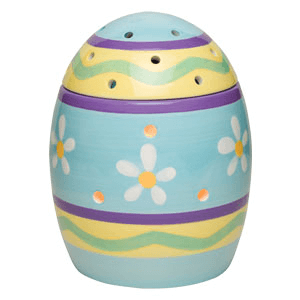 As colorful as the coming spring,
Easter Egg
is the perfect present for any basket! Layers of pretty, hand-painted pastel patterns and dancing daisies decorate its glossy surface. Open it, and you'll find a clever treat – a warmer dish nestled right into the egg.
The Easter Egg Warmer is a three piece warmer, with a removable lid. You can keep the lid on and still smell the amazing Scentsy fragrances, just open it to change the scent.
Don't forget that as the February Warmer of the Month, Easter Egg, is available at a 10 percent discount!
Each month, Scentsy introduces a brand new fragrance and Scentsy Warmer that are not included in our current catalog! To celebrate the seasons, these fragrances and warmers are available at a 10% discount during their promotional month.