Love the sun but not the smell of sunscreen? Scentsy how has Sunscreen! Available in two SPFs, a SPF 15 and SPF 50. Pick from one of the two amazing tropical scents of Rio Beach or Havana Cabana. You and your kids will love to apply their sunscreen – no more tears or screaming!
This highly fragrant sunscreen in SPF 15 & 50 pulls double duty – shielding you from the sun's harmful rays while letting you luxuriate in some of our best-selling Tropical scents. Lotion provides broad-spectrum protection and is water resistant to 80 minutes.
Size: 6 oz.
Estimated number of uses per container: 12-15
Package recycling code: #2.
Allergy tested; non-toxic and non-irritating to skin.
Not tested on animals; contains no animal byproducts.
Available in two scents: Rio Beach and Havana Cabana.
Scentsy Scented Sunscreen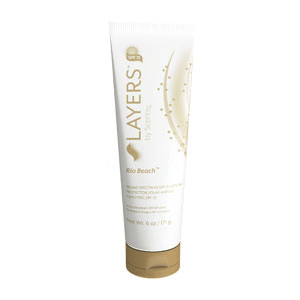 The scent of sun, surf, sand, and samba — coconut milk, tropical fruit, and tonka bean.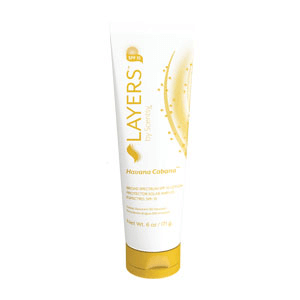 Luscious medley of pineapples, oranges, bananas, and berries.
SPF 15 Ingredients
| | |
| --- | --- |
| Ingredient | Purpose |
| Avobenzone | Sunscreen agent/UV absorber |
| Homosalate | Sunscreen agent/UV absorber |
| Octisalate | Sunscreen agent/UV absorber |
| Octocrylene | Sunscreen agent/UV absorber |
| Water | Base for ingredients, balances consistency |
| Ethylhexyl Palmitate | Skin softener/soother |
| Polyamide-8 | Film former and SPF booster |
| Acrylates/C10-30 Alkyl Acrylate Crosspolymer | Thickening agent |
| Aloe Barbadensis Leaf Juice | Skin conditioning agent |
| Benzyl Alcohol | Preservative |
| Potassium Cetyl Phosphate | Base builder |
| Chlorphenesin | Preservative |
| Dimethicone | Skin conditioning agent, skin protectant |
| Disodium EDTA | Helps ingredients mix together |
| Fragrance | FUN |
| Sorbitol | Humectant, moisturizer |
| Tocopherol (Vit E) | Antioxidant/preservative |
| Triethanolamine | pH adjustor |
| Water | Base for ingredients, balances consistency |
SPF 50 Ingredients
| | |
| --- | --- |
| Ingredient | Purpose |
| Avobenzone | Sunscreen agent/UV absorber |
| Homosalate | Sunscreen agent/UV absorber |
| Octisalate | Sunscreen agent/UV absorber |
| Octocrylene | Sunscreen agent/UV absorber |
| Oxybenzone | Sunscreen agent/UV absorber |
| Aluminum Starch Octenylsuccinate | Skin feel enhancer |
| Benzyl Alcohol | Preservative |
| Carbomer | Thickener |
| Dimethicone | Skin conditioning agent, skin protectant |
| Disodium EDTA | Helps ingredients mix together |
| Ethylhexylglycerin | Skin softener/soother |
| Fragrance | FUN |
| Phenoxyethanol | Preservative |
| Polyglyceryl-3 Distearate | Base builder |
| Sorbitan Isostearate | Base builder |
| Tocopherol (Vitamin E) | Antioxidant/preservative |
| Triethanolamine | pH adjustor |
| VP/Eicosene Copolymer | Film former |
| Water | Base for ingredients, balances consistency |