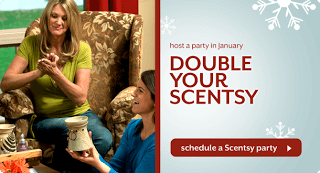 Brighten your New Year with a stash of Scentsy! During the month of January, Hosts will receive Double Half-Price Host Rewards just for throwing a Scentsy party! Host in January and you'll get Double the half-priced items on qualifying parties of $150 USD or $200 CAD.* With DOUBLE HALF PRICE it's like getting 50% off your Scentsy products this month.
January is Double Host Rewards! Making it the perfect time to host your Scentsy party!
Hosting a Scentsy party is an easy fun way to earn free and half priced products and now in January it is even better! With $150 in sales you earn 10% in free product and one 1/2 priced item. This month you will get two 1/2 priced items for $150. That is two Scentsy Products at 50% off! Even better is when you hit a $400 Scentsy Party! It's $60 in free product and 8 half-priced items!
Contact me or schedule your Scentsy Party now!
You don't have to have a Scentsy home party to enjoy these rewards!
A Scentsy Catalog party or Scentsy Basket Party is the simplest way to earn your double Scentsy rewards! I provide a "Scentsy Party in a Bag"; everything you need to share Scentsy with your friends, family and co-workers.
The "Scentsy Party in a Bag" contains a full-size warmer, a Scentsy Bar for demonstration purpose, a travel bag with all 80 testers mini size (think size of a lip gloss pot), catalogs, order forms, and Frequently Asked Questions to help you with your party.
I am only an email or phone call away if needed!
Take the Scentsy Warmer and scent into your office and let co-workers enjoy a wonderful scent during their work day. You could put the warmer in a break room for others to enjoy and purchase on their breaks.
There are many ways to have a successful Scentsy catalog party. I will schedule time to discuss the details and ideas prior to the party start date. The Scentsy Party is usually opened one to two weeks for you to collect as many orders as you can to earn the most host rewards!
The Scentsy Party in a Bag can be shipped at no cost to you anywhere in the US and Canada.